The Downs has its own purpose built dining room which boasts the same panoramic sea views as your balcony rooms. It has spacious comfortable seating for up to 40 people however, unless we are providing function facilities or the occasional supper club, this will never be more than 24 when serving residents.
Here you will enjoy our award winning breakfast service. You will be able to help yourself from the buffet tables* to fruit juice, fresh fruit a selection of pastries and jams, fruit and natural yoghurts and all the popular cereals you enjoy.
One of our waitresses will then take your order for hot food and you can have as much or as little, in any combination from our breakfast menu or specials board.
Following your breakfast you can relax with a newspaper and a coffee in our Lounge Bar or on the forecourt.
Dine at The Downs
Evening meals are also served in the restaurant. Usual service is from 6.30pm until 7.15pm but we will always try to accommodate earlier or later reservations particularly for those attending the theatre or out on mammoth explorations of beautiful Devon. Our 2-course dinner price is fixed at £22.95. Desserts are available at an additional cost. Dinner needs to be pre-ordered by noon to minimise waste and maintain the excellent quality and availability of our ingredients.
Whether it be a tender lamb rump or a light salad made with our own home cooked meats we offer a comprehensive table d'hote with additional seasonal specials and a dedicated vegetarian menu. If you have any other dietary requirements do not hesitate to contact Kate and she will be only too happy discuss your needs as we regularly cater for vegetarians, vegans, and coeliacs.
All our ingredients are sourced locally wherever practical but a special mention must go to our award winning Regency Sausages, the spectacularly good River Teign Mussels (you can see the estuary from the restaurant) and the freshest of fish from the famous Brixham Fish Market.
For those of you with four legged family members we can serve all your meals in our comfortable Lounge Bar if you wish to 'dine with the dog', and regularly turn a blind eye to those who order an extra sausage...
Whilst Kate is charged with most of the cooking, Ed is our master home made scone maker. In our kitchen we use real Devon farm clotted cream and luxury fruit jams and we think our home made cream teas are the best in Babbacombe. In fact our Gluten Free Range (GFmust be pre ordered at least 48 hours in advance) has been endorsed by the St Marychurch branch of the W.I. Why not have one and tell us what you think!
During the summer months the restaurant forecourt is used to serve a selection of cakes and pastries and Traditional Devonshire Cream Teas with our home-made scones and local clotted cream. Our ice cream is farm made with Devon clotted cream and real whole fruit and purees and some are gluten free.
It doesn't stop there.......
Off to the beach or a day out exploring? Let us fill a hamper with all your favourite picnic goodies. Order by 4pm and we will have it ready by 9.30 the following day leaving you hassle free to enjoy the day.
We regularly cater for intimate candle lit dinners to group bookings and private dining for those guests visiting extended family. Speak to Kate who can guide you.
Finally, ever considered taking us over exclusively. We can tailor a package with meal times to suit you. Minimum hire is based on 24 people, and can be on a Bed & Breakfast or Bed, Breakfast and Evening meal basis. Again speak to Kate for full details.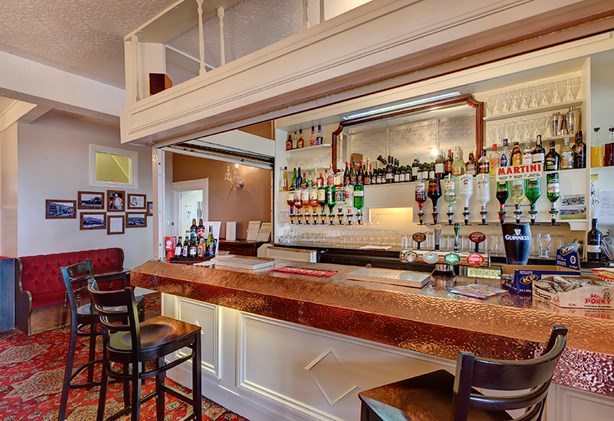 One aspect that sets us apart from many traditional guest houses or B&B's is being able to relax in our comfortable and spacious Lounge Bar.