We have spacious family rooms and can offer smaller 2ft 6" junior beds or standard 3ft beds in addition to travel cots and wooden bed guards. Child steps can be placed in the bathroom to help little ones reach the wash hand basin. We also offer baby changing facilities on the ground floor and a fridge is availabe to store baby food or milk, and we can also heat these as required (available from 8am - 11pm). Cool blocks can also be frozen as required.
Breakfast will be an enjoyable experience as our menu can cater for the youngest of tastes, boiled eggs & soldiers or even pancakes and our team will always try to take your order in a swift manner to aviod unnecessary delays which we know from experience can make the most patient of children agitated. For those guests with babies we can even serve breakfast in 'shifts' so that baby can be entertained throughout whilst you eat with us.
For those guests joining us for Dinner we have child friendly menus, plastic crockery and cutlery to avoid you having to carry everything with you, and can easily serve dinner early to ensure bedtimes are adhered to. High chairs are available. These push under our tables allowing your child to feel really involved at mealtime.
Allergy Information: Some of our foods may contain nuts and other allergens. If you have any special dietary requirements, please speak to a member of our restaurant team who can advise you on your choice.
Well behaved, supervised children are very welcome in our Lounge Bar until 9pm, and we have a selection of board games and activities to help keep them amused.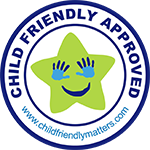 We are proud to announce that we have been Accredited by Child Friendly Matters. This Accreditation assures parents of a truly Child Friendly experience and Accredited businesses must reach, or exceed minimum standards. Little things mean a lot… and we hope that you will find all your needs have been catered for at The Downs Babbacombe. Please click here to see full list of our Child Friendly facilities.
Should you have any specific requests or requirements please speak to Kate upon booking, or any member of the team whilst you are with us.